I cobbled these gaiters/spats together with the materials I had on hand, which wouldn't have been my first choice of materials but hey, you work with what you've got: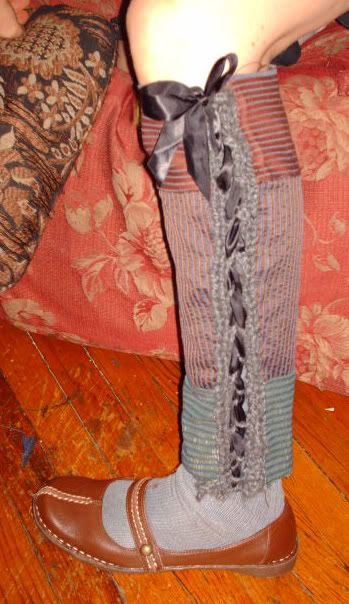 Top still needs hemming.
I am stuck at home recovering from ankle surgery and while my friends have been good sports about fetching me juice and paper towels and other necessities from the grocery store, I think asking them to go to a craft store and re-stock my supplies is stretching the bounds of friendship. So, these are the things I had laying around. Lacking grommets, I crocheted some edging and sewed it on to thread the lacing through. The gaiters are made of three pieces of upholstery remnants. I tried using both lacing and ribbon for the closure; I prefer the ribbon. If you can believe it, I did this all by hand as my machine doesn't work. With a machine, I think I could have whipped it out in an hour but of course hand-sewing all those pieces took much longer.
I still haven't finished the top and bottom hem, and I'm debating whether I should add some crochet trim, maybe to the bottom as I kinda wanted them to be a bit longer and cover the top of the shoe.
These are easy to make using the duct-tape method of pattern construction so if you've been debating trying to sew a pair, go for it, especially if you have sewing machine. This was my first attempt and I think the next pair will be even better.
Current Mood:
accomplished