Our associates over at
MeetUp.com
organized a Steampunk Afternoon Tea, which was held at
Tea & Sympathy
in the West Village on Sunday, November 14, 2010. Because Tea & Sympathy seats only 23 people, the organizers had to cap attendance event after 10 RSVPs and I did not promote the event on LiveJournal or Facebook. Our group did wait a bit over an hour to be seated (they do not take reservations), but that couldn't be helped, and the staff of T&S were wonderfully accomodating. If you missed out, not to worry, they are working on setting up regular teas at a more spacious location and of course I will be sure to spread the word.
Group shot taken by our waitress. Clockwise from lower left: Janice, Tristan, Robert, Samuel, Rachel, Steve, Morgana, Catherine, Katherine, and Brandon. Hopefully I got those names right.
We enjoyed lively and spirited conversation while waiting for the tea to arrive.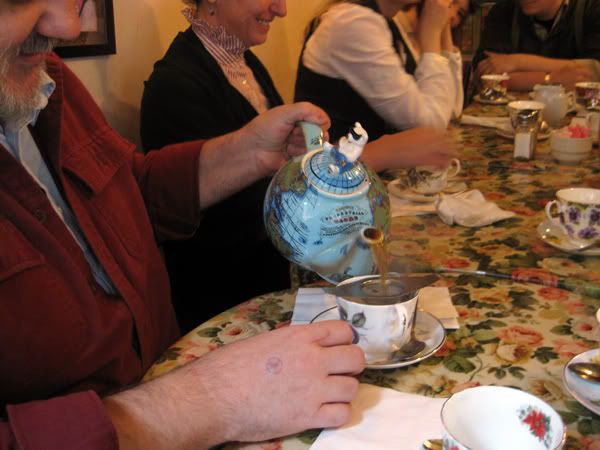 Steve pouring Earl Grey. Each teapot and teacup are different, which makes for a very pretty table.
Robert pouring for Catherine.
Samuel pouring from an Alice in Wonderland-themed teapot.
Two 'high tea' orders included finger sandwiches, scones, jam, tea of course, and cakes, including a jam-and-cream cake the size of my head.
I had a tasty mushroom sheperd's pie, washed down with Earl Grey.
Post-tea group shot, including me but sans Morgana, who was holding the cameras.
Post-tea group shot, sans me, who was holding the cameras.